Working Lands
Nourished goodness from the grasslands of North Dakota
The Paul Ranch
About thirty miles south of Carson, North Dakota, lies 6,700 acres of rolling prairie brimming with the songs of Chestnut-collared Longspurs, Sprague's Pipits, and Western Meadowlarks. If someone were to visit the Paul Ranch, they might find themselves sitting around the family dinner table, chatting about grazing projects on the big front porch, or exploring those wide open spaces of native prairie. In those quiet moments on the range, when the chorus of bird song is winding down in late July, what calls attention is not necessarily the elusive Baird's Sparrow that pipes up every now and then, but why the Pauls do what they do. They recognize the responsibility they carry as stewards of the land, and as an Audubon-certified bird friendly ranch, they manage their cattle through an adaptive grazing system that promotes diversity and provides habitat for threatened grassland nesting birds, pollinators, and wildlife.
A history of caring for the land
The Paul family has six generations of ranching cattle in their blood, and that legacy is growing even today! They've been managing their expansive paddocks to provide excellent nesting habitat for birds that rely on short and mixed-grass prairies, including Baird's Sparrows and Sprague's Pipits, as well the highest recorded number of nesting Chestnut-collared Longspurs in the Audubon Conservation Ranching Initiative! Habitat management plan goals include providing a diversity of habitats for all grassland-dependent wildlife found on the ranch, protection of the native vegetation that provides homes for those wildlife, and to complete avian surveys every three years to inform the grazing plan management.
Wild Prairie Beef
Nourished goodness from the grasslands of North Dakota
Photo: The Paul family. Photo: Courtesy of the Paul family.
Photo: Western Meadowlark. Photo: Evan Barrientos.
Buy Beef From Audubon-Certified Lands
When you buy beef from Audubon-certified land you are purchasing from ranchers and landowners who protect and enhance grassland bird habitat.
How you can help, right now
Support Rowe Sanctuary
Help us continue our important work for Sandhill Cranes and other birds that rely on the Platte River ecosystem!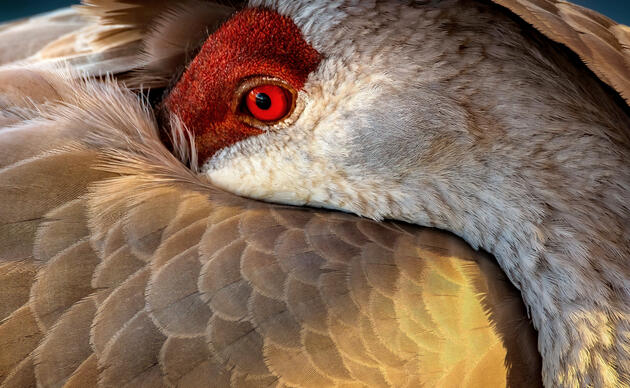 Support Spring Creek Prairie
We are able to provide and protect this amazing landscape only with the help of private donations. Help us keep the trails open and the prairie thriving!