Gretna, Nebraska (October 4, 2022) – Local landowners met with state senators on Friday to talk about their experience with Agricultural and Conservation Easements. They were supported by Audubon Nebraska, Nebraska Land Trust, Ducks Unlimited, and the Nature Conservancy.
Farmers Dean and Wayne Fedde hosted the event on their property and were joined by their neighbors Jarel Vinduska and Ron and Carol Patterson. The Fedde Farm invested in a permanent conservation easement on their property in 2010, working with the Nebraska Land Trust, and became a certified organic farm that same year. The landowners talked about their concern for loss of working farms, keeping farms in families, urban sprawl, and even the historical value buried in private land.
"To a farmer, the land is the single most valuable asset he or she can own," Dean Fedde said.
Patterson Farms, owned and operated by Ron and Carol Patterson, is the second largest protected area in Sarpy County, at 700 acres. They have decided to use different conservation easements in phases to preserve natural resources and historically significant land for distinct uses. Their parcel of land is home to an archeological site where Central Plains Native Americans lived and farmed between 600 and 1,000 years ago.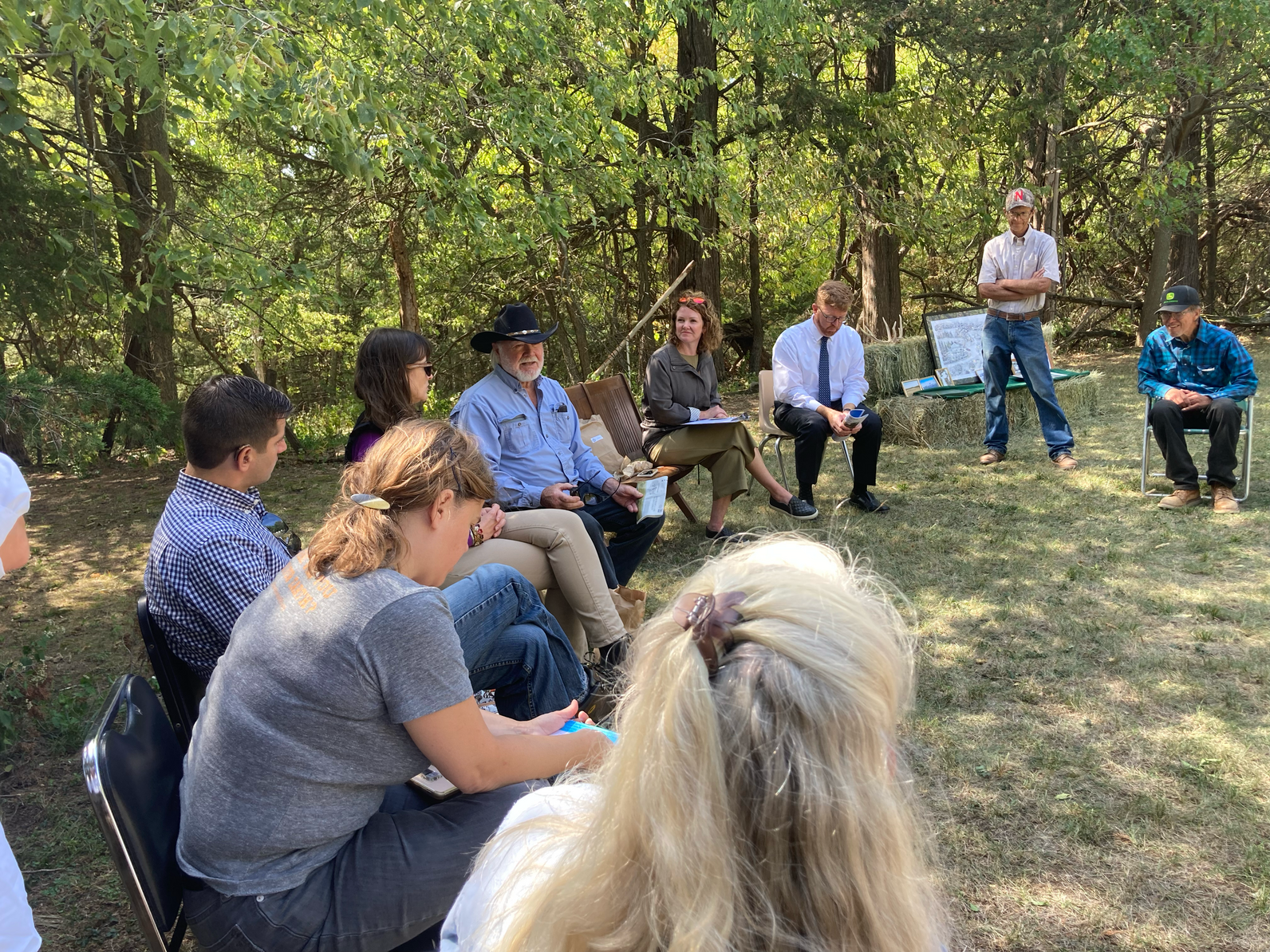 "When our county was really pressing for high-density development – because a lot of people wanted to be in these hills overlooking the Platte – I was pleasantly surprised that a lot of our neighbors had the same vision that Ron and Carol and my family had," said land Landowner Jarel Vinduska. "That we have something special here that needs to be protected."
Sarpy County has designated over 11,000 acres as a conservation district, incorporating protected stewardship areas in new developments. But Vinduska says that "Easements are the best solution we have right now because [conservation districts] are still subject to the political whims of the future. They might try to take that conservation district away whereas it'd be hard to take a conservative easement away because there is a [private] party that is protecting that." Easements give private landowners legal protections against future development on their land.