Elevate Nebraska
My story: Joel Sartore
"Rowe is a lifesaver for the Sandhill Crane – and Whooping Cranes." Joel Sartore, National Geographic Photographer
No Place Like Home
Joel Sartore knows a thing or two about nature photography.
For decades, Joel traversed the globe photographing the Sumatran rhinoceros, the tiny Salt Creek tiger beetle, and the South China tiger. His pursuits took him away from his Lincoln, Nebraska, home for months at a time, and his work has filled the pages of National Geographic magazine.
Funny thing, he says, one of his favorite places to photograph native birds, insects, and animals is in his own backyard: Spring Creek Prairie Audubon Center. It's two square miles of native prairie—and Joel knows it well. Spring Creek is special, he says, because it is untainted, undisturbed, and accessible to the public.
Joel has been visiting for more than 20 years. It all started with a National Geographic assignment on animal migration that took him to Spring Creek to photograph a pair of Red-headed Woodpeckers, a species in decline. He set up a remote camera outside their nest that he triggered while watching through a spotting scope.
During the pandemic, Joel, like everyone else, found himself unable to travel the world. He headed to Spring Creek where he continued work on the Photo Ark, his groundbreaking initiative to document species of wildlife before they disappear. "The diversity of insects and color was fantastic, meaning that Spring Creek is managed well." He brought in experts to help identify these species, then captured, photographed, and released them. To date, he's photographed nearly 100 insect species at Spring Creek, including wasps, butterflies, beetles, and even the massive Dobsonfly.
Joel is also familiar with Audubon Nebraska's other nature center, the Iain Nicolson Audubon Center at Rowe Sanctuary. He's seen most of the world's great migrations, and the Sandhill Crane's annual stint on the Platte River each spring ranks high among them.
"Rowe is a lifesaver for the Sandhill Crane—and Whooping Cranes. By keeping the Platte River open, Audubon has created this world-class wildlife viewing spectacle each spring."
A special thank you, he says, goes to the people who work to preserve the Platte for the cranes. "There's no guidebook for any of this. All this work is done by people who care."
How you can help, right now
Support Rowe Sanctuary
Help us continue our important work for Sandhill Cranes and other birds that rely on the Platte River ecosystem!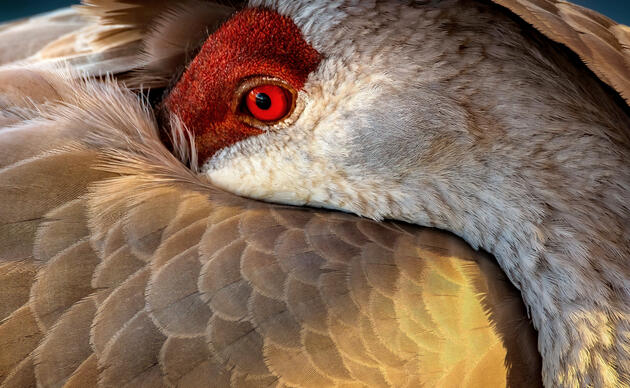 Support Spring Creek Prairie
We are able to provide and protect this amazing landscape only with the help of private donations. Help us keep the trails open and the prairie thriving!