Elevate Nebraska
Our Story: Mary and Jim Pipher
"Every year, I experience a profound sense of wonder. You can't parse wonder. It's an absolute state." – Mary Pipher, Author and Therapist
She Looks to the Skies
Mary Pipher follows a ritual every time she comes to Spring Creek Prairie Audubon Center: she finds a place among its tallgrass prairie, lies down, and looks to the heavens. "That experience is like medicine to me."
Step back 25 years, and Mary and her husband, Jim, lived in a house with a small yard. This was no home with a view. No sunrises or sunsets, or even moon rises. On their first visit to Spring Creek, before the nature center existed, they walked with Audubon's executive director, who shared that the organization wanted to buy the land to safeguard its native prairie.
And before she left, Mary had her moment. She recalls hearing the wind rustle through the grasses. She remembers looking skyward. And she remembers feeling at peace.
Mary, an author, instructor, public speaker, and therapist, understands the therapeutic value of grounding oneself in the earth. She's written about it, she discusses the concept with her patients, and she invites her guests to Spring Creek to join her ritual. "It doesn't just work for me. It works for anyone who tries it."
Upon her first visit, Mary's book, Reviving Ophelia, was a New York Times bestseller. The Piphers found themselves with the resources to help Audubon Nebraska purchase the land that is now Spring Creek Prairie Audubon Center. So they did, and continue to support it today. They even included Audubon Nebraska in their estate plans, ensuring we are able to provide a safe haven for birds for generations to come.
On trips to Rowe Sanctuary, Audubon Nebraska's other center, Mary experiences something different: a sense of wonder. Every year her experience is the same, yet so different: "I think, 'This is the best year ever.' The reason? Every year, I experience a profound sense of wonder."
At Spring Creek, the land immediately reminded her of her younger days living on a farm. No fences. Prairie as far as the eye could see—and even farther. "These places are so few. So rare. I want them to be around not just for my great-grandchildren, but everyone's great-grandchildren."
How you can help, right now
Support Rowe Sanctuary
Help us continue our important work for Sandhill Cranes and other birds that rely on the Platte River ecosystem!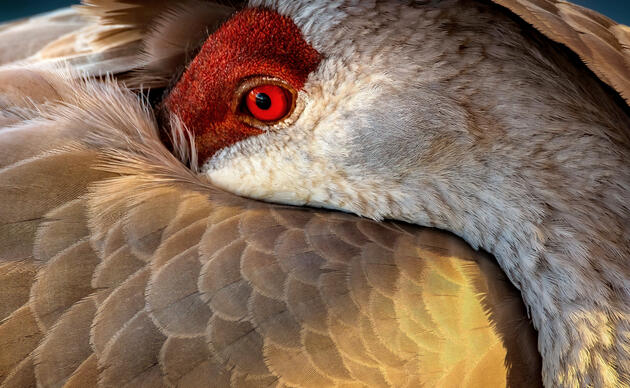 Support Spring Creek Prairie
We are able to provide and protect this amazing landscape only with the help of private donations. Help us keep the trails open and the prairie thriving!