Elevate Nebraska
Our Story: Naseem Munshi and Mike Tupper
"There's something about this place. For me, it's the birds that speak to me in a way that nothing else speaks to me." – Naseem Munshi, Volunteer and Supporter
Where They Want to Be
Naseem Munshi can't stay away. Every year, she makes a pilgrimage from her home in Colorado to Rowe Sanctuary.
"It's not just the visual of these magnificent birds. It's the sound. The sound is incredible," she says.
Naseem, a retired scientist living near Boulder, Colorado, began making trips to Nebraska in the late 1980s. The spark? She took a birding class and accepted her instructor's invitation to see Sandhill Cranes make their yearly stop on the Platte River. She returns each spring because her crane-watching experience takes her back to her days watching the migrations of zebra, elephant, and wildebeest in her native Kenya.
Rowe Sanctuary staff and volunteers escort visitors to their viewing blinds, where they see and hear Sandhill Cranes fly in for the evening or take flight in the morning. The viewing blinds allow such close proximity to the birds that you can hear the roar of their wingbeats as they lift off the river. First, however, guests stop at Rowe's education center. They hear Bill Taddicken, Rowe Sanctuary's director for the past quarter century, describe the importance of conserving the Platte River habitat for Sandhill Cranes, other birds and wildlife, and the community.
Naseem and her husband Mike Tupper, a retired engineer, aren't just visitors at Rowe, they're volunteers and donors. They guide tours to the viewing blinds, serve as roving naturalists who engage with hikers on Rowe's trails, fill the bird feeders, operate the crane camera, and prepare the blinds for visitors. They also make annual donations to support the center, because they believe in supporting causes that are important and personal to them.
Mike likes to teach people about how, historically, the Platte River would flood each spring from snowmelt in Colorado and heavy rains. The floods would widen the river channel, keep it shallow, and wash away the vegetation on the sandbars, creating one of the best habitats for Sandhill Cranes, Piping Plovers, and other birds and wildlife. Now, our rivers are controlled; flooding is generally prevented, and water has been diverted from the Platte. So, the team at Rowe must intervene: dredging the river and removing woody species and other vegetation from sandbars. "What Mother Nature used to do is now accomplished by Director Bill Taddicken and John Deere," Mike often says.
Naseem and Mike plan to keep coming back and supporting the center financially. "The cranes talk to us—in our hearts," Naseem says. "There's something about this place. For me, it's the birds that speak to me in a way that nothing else speaks to me."
How you can help, right now
Support Rowe Sanctuary
Help us continue our important work for Sandhill Cranes and other birds that rely on the Platte River ecosystem!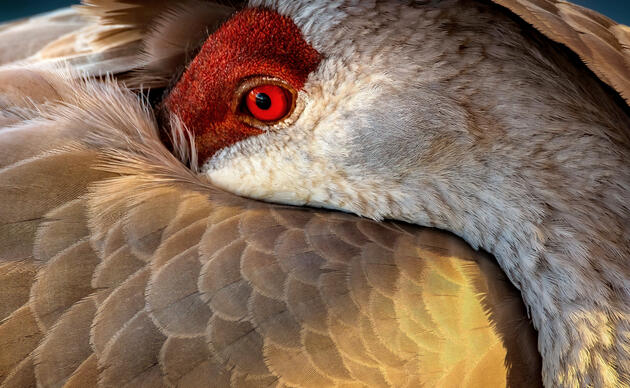 Support Spring Creek Prairie
We are able to provide and protect this amazing landscape only with the help of private donations. Help us keep the trails open and the prairie thriving!