North America's grasslands are among the most imperiled ecosystems in the world. Consequently, America's grassland birds have declined more than any other bird group in the continent, some species by as much as 80 percent. Because the vast majority of America's grassland birds breed on private lands, working with ranchers is our best hope for conserving them.
Benefits to Birds
To save grassland birds, we're enlisting and assisting America's ranchers—the stewards of our remaining grassland landscapes—in implementing conservation ranching practices hundreds of thousands of acres in North and South Dakota and northwestern Nebraska. We're working with them to develop Habitat Management Plans that implement regenerative grazing and other bird conservation practices, such as controlling invasive species and native plant seeding.
By mimicking America's historic bison herds, regenerative grazing invigorates diverse plant communities and supports nutrient cycles that rebuild soil and conserve water. It even has potential to remove carbon from the atmosphere and add enormous amounts of carbon to soil organic matter. We measure the effectiveness of these practices by monitoring bird diversity and abundance, vegetation change, and soil health.
Benefits to Consumers
Beef from Audubon-certified land is hormone and antibiotic-free, ethically raised, and delicious. Supporting Audubon-certified ranches is better for grassland birds, better for the land, and better for you. Our certification seal can be found on high quality meat products and empowers consumers to support ranches that benefit grassland birds and their habitat.
Benefits to Ranchers
Beef from Audubon-certified lands garners a premium price and provides a unique opportunity for ranchers to showcase their excellent management practices. This helps them care for their families and provides exceptional habitat for wildlife. By first listening to the ranching community, trusting in their knowledge of sustainable land management, and learning from their resiliency in a volatile marketplace, we are ensuring that our strategies and solutions will benefit both people and nature. Buying beef from Audubon-certified lands supports rural economies and the ranching way of life.
"Audubon is taking conservation to the next level with an innovative marketing plan that connects conservation-minded consumers with beef produced by conservation-minded ranchers. Consumers can quickly and conveniently find beef from Audubon-certified bird-friendly ranches like mine and other participating ranches online. I am proud of our Audubon certification, appreciate their guidance and am excited to learn more as they guide us in our management plan."

— Jeannie Franceus, Owner Operator of Leone Valley Ranch, an Audubon-certified ranch in South Dakota
Our Impact
Since 2009, the Conservation Ranching Initiative in the Dakotas has:
Enrolled 23 ranches totaling over 140,000 acres in South Dakota, North Dakota, and Montana
Provided brand support to two branded programs that source cattle from ACR-certified ranches in the Dakotas, that in turn supply beef to over 20 outlets in the region
Conducted more than 80 biological surveys on 23 ranches
Provided enrolled landowners with cost-share funding to implement bird-friendly management through the Prairie Management Toolbox programs throughout North Dakota
Photo: Western Meadowlark. Photo: Evan Barrientos.
Buy Beef From Audubon-Certified Lands
When you buy beef from Audubon-certified land you are purchasing from ranchers and landowners who protect and enhance grassland bird habitat.
How you can help, right now
Support Rowe Sanctuary
Help us continue our important work for Sandhill Cranes and other birds that rely on the Platte River ecosystem!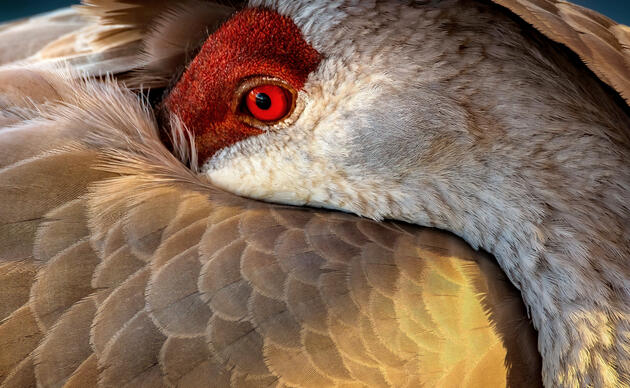 Support Spring Creek Prairie
We are able to provide and protect this amazing landscape only with the help of private donations. Help us keep the trails open and the prairie thriving!